Margarita Benitez, artist
Margarita Benitez is an art + technology and fiber artist based in Chicago + Miami. She is interested in the explorations of art within the making and DIY culture. Her work is rooted in exploring underlying social issues in technology – exploring how today's society copes with the overwhelming presence of technology, surveillance, data mining and media bombardment. Her work has been exhibited nationally, internationally, and featured in Leonardo and Surface Design magazine.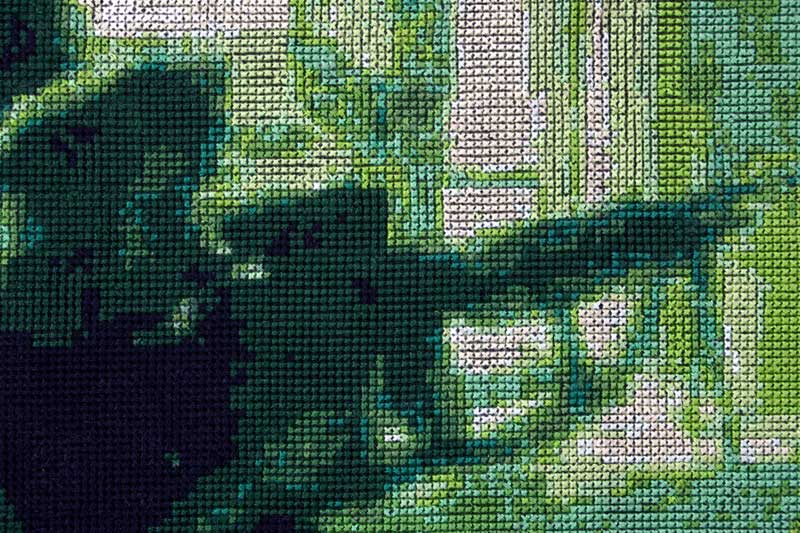 Untitled (nightvision iraq war still), 2005
MEDIUM: cross stitch
DESCRIPTION: appropriated image of iraq war night vision scene replicated in cross stitch. meditative piece about the duration of the war, the displacement of our reality and that reality which the media presents us.

war cheerleaders , 2005
MEDIUM: 22 thread count weave 54" x 36"
DESCRIPTION: This is part of a current body of work that I am developing. They are woven still images taken from live video. 22 thread count jacquard weavings printed on a computerized loom. They deal with the daily bombardment of images from the media by freezing them to 1/30 of a sec.The pieces question the displacement from reality created by such technology and the penetration of those images into our subconscious. Here we see that sometimes truth is stranger then fiction.
All images and text via: Margarita Benitez